What I don't like about my Grande Punto
I got my Grande Punto 4 months ago, it was one of the few examples still available as the dealership stopped importing it to make room for the face-lifted model, known as Punto Evo. You might be wondering what's the point of writing a review about the Grande Punto if it's not available for sale anymore. Well, I just feel like doing it, isn't that a good enough reason?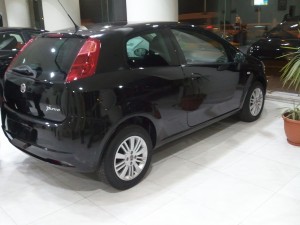 I got the far less practical 3-door model for several reasons, including that it was 2,000 EGP cheaper than the 5-door model. At 91,000 EGP, I think it's the best value for money for its class, specially when compared to the hideously priced rivals available in Egypt as the Opel Corsa, VW Polo, Seat Ibiza and Skoda Fabia.
This Italian beauty is outstanding from several aspects, although there are a few things that I'm not very happy about. So instead of repeating what every car reviewer is saying about where the car scores points, I'll just talk about the things I don't like.
Fiat is offering numerous engines for the Grande Punto, ranging from a tiny 1.2L to a much bigger 1.9L diesel. Power outputs rise up to ridiculous numbers, such as the 180 BHP generated from the 1.4L turbo-charged Abarth edition. Unfortunately, in Egypt we get the second weakest engine, with only 77 BHP and outdated valve control technology compared to the completely computer-controlled Multijet engine. You feel the engine laziness once you step onto the gas pedal, which gets even worse when accelerating above 120 Km/h.
Blue & Me is amazing. Actually it's a great advantage for Fiat and Alfa Romeo over their rivals. For those of you who don't know about it, it's an integrated communications/entertainment system developed by Microsoft. It enables you to play the music library on your iPod or USB drive, and make phone calls through bluetooth. It also offers voice commands for activating several functions. It works as it should, although there are some small things that make it a bit annoying. First, Blue & Me has a stupid was of overtaking your dashboard screen with messages that you can't dismiss. So if, for example, you are cycling through the trip computer info or editing the car settings and the music track you are playing ends, the track that plays next will overtake your dashboard screen with its name, and there's no way to get back to what you were doing except waiting 15 seconds till it goes away on its own. Another thing, if during a phone call you want to take a look at the trip computer info, there's no way to dismiss the caller's name off your dashboard.
Obviously Fiat doesn't have strict quality control measures at their factories. There's a visible difference in spacing between the hood and the front quarter-panels. There are also a few minor flaws in the interior.
The hatchback is so flat which makes it very soft. All it takes to dent the hatchback is someone to rest his body on your car! In a country like Egypt where your car is mostly parked in second rows and constantly being pushed to make ways for other cars, expect to find 3 to 4 dents on your hatchback every week.
I was expecting better quality from the audio system. The door speakers and the output from the head unit aren't that good. Also there's no MP3 playback in the CD player.
There isn't a lot of cubby holes or storage areas, also there are only 2 cup holders with a rather stupid design. Place a tall mug in any of the cup holders and you wouldn't be able to shift to the 1st, 3rd or 5th gears.
Despite all I have listed above, I'm still very satisfied about the car, specially when you take into consideration that it was build by mad drunk Italians! 😀