In Egypt we tend to think that a car is better when it's bigger. And for years I have disagreed with people about this concept, trying to convince them to leave their boring Asian sedans and buy European hot hatches. Having completely failed to convince anyone, I've decided to give up and enjoy the greatness of these hot hatches all by myself!
I currently drive a chubby Hyundai Matrix. Before you start attacking me for choosing such a horrible looking car, let me tell you that I haven't chosen it. I'm supposed to be getting a new car by the end of this year, so I've been searching the Egyptian market for quite a long time to choose the car with the best value.
I've always liked the Fiat Grande Punto. I know it's not the best all-rounder, the interior quality isn't that good and it has a lazy 77 BHP engine. But despite all that there is something charming about it. There is something magical that makes me drool everytime I see this car. And I guess that's the whole idea of Italian cars.
But to be honest, each time I get inside one I feel something is wrong, something is missing. It's not exactly everything I want from my hot hatch. That was only until I discovered a more powerful, better spec'ed version, the Grande Punto T-JET. When I saw this car I instantly fell in love. It's absolutely everything I'd ever want from a car.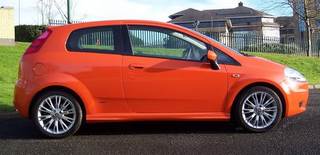 Here's why I consider this T-JET model the best value for its price, compared to any other hot hatch in the Egyptian market. First of all, it costs 116,000EGP which is only 9,000 EGP more than the regular Dualogic model (the T-JET is manual though). For these 9,000 you get a 1.4 turbo charged engine that produces 120 BHP instead of the boring 8V engine that produces only 77 BHP. You also get an upgrade from 15? wheels to 17?, 6 airbags instead of only 2, sports seats instead of the regular seats that don't provide good support during cornering and dual-zone climate control instead of manual AC. You also get lots of safety features like traction control with hill-holder function and ASR. In addition to that, the exterior of the car is improved with some styling features like the smoked headlights, side skirts, roof spoiler and a chrome exhaust tailpipe.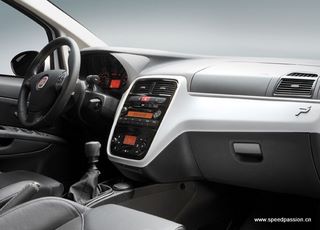 In my opinion, all these extra should cost about 15,000 to 20,000 EGP more than the regular model, but hey the T-JET is only 9,000 EGP more than the regular version! There are no other cars in the Egyptian market that could match these specs. The closest thing is the Skoda Fabia which doesn't have half the equipment in the Grande Punto and costs more than 125,000 EGP.
And for all these reasons, my next car is going to be a Fiat Grande Punto (or Punto Evo), and I'll leave the boring Ceratos and Elantras to the rest of the population!